Très longue interview par Richard Cook sur Miles Davis dans le Guardian, mais très intéressante à lire!
Pour lire tout l'interview:
http://www.guardian.co.uk/music/2012/nov/06/miles-davis-interview-rocks-backpages


Miles Davis: 'Coltrane was a very greedy man. Bird was, too. He was a big hog' – a classic interview from the vaults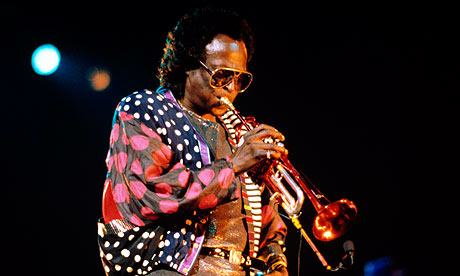 He has his sketchpad resting on one leather-clad knee. Gently, he draws arcs and dark lines on to the paper: long-limbed figures with distended stomachs and wide thighs and bird lips. Their heads look like blackberries. Once one is finished – and it might be a few lines or a complicated picture – he turns the page and starts another.
Between pen strokes, he talks. His voice is a legendary rasp: words come out in a long guttural cough. When he laughs, it's like a gargle in the throat. When he smiles, which is rarely, he frowns, too. His eyes are mild but unbearably penetrating: he will look up from the pad, slowly, and freeze a question in its tracks. So I mostly just let him talk. He grants me an hour or so in his Montreal hotel room.