Jazz Films Vie for the Spotlight at Sundance Festival
The buzz from this year's Sundance Film Festival had a distinctly swinging undertone, with the appearance of two films dealing with jazz.
Whiplash
, the debut feature from director Damien Chazelle, which won both the audience and a grand jury prize for US dramatic films at the festival, promises to fascinate jazz fans with the ubiquitous J.K. Simmons as a bandleader and educator from the school of hard knocks. (See this
review of Whiplash
in the Guardian.) And
Low Down
, the first feature film from director Jeff Preiss, focuses on the life of pianist Joe Albany, seen through the eyes of his daughter, Amy. In
this WSJ article
, Preiss talks about the making of
Low Down
, including the way he used Albany's actual music, and the way actor John Hawkes enacted Albany's actual solos.
-Nick Moy
Whiplash: Sundance 2014 – first look review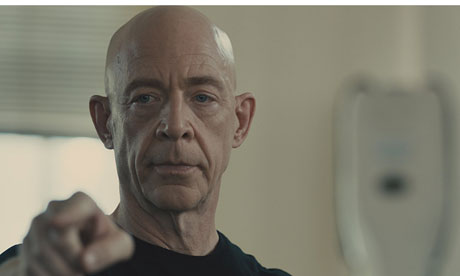 The road to excellence is littered with bloody Band-Aids, splintered drum sticks and daddy issues in writer-director Damian Chazelle's lively study of musical obsession.
JK Simmons
plays Terrence Fletcher, a jazz band leader at a top flight New York conservatoire.
Miles Teller
is Andrew, a gifted drummer dragged into Fletcher's inner circle/boxing ring. Fletcher believes in beating the talent out of his pupils. He slaps them in time to the beat, labels them cocksuckers and faggots and worthless pieces of shit. He tells them the story of how Charlie Parker became Bird. "He fucked up a solo and the band leader threw a cymbal at his head. He went away and practiced so he'd never be so embarrassed again". Fletcher doesn't stop with the cymbals - stands, chairs and the drums Andrew isn't in the process of hitting come sailing past the young maestro's ears. Still, he pounds the skins, desperate to win the monster's approval. His own dad is a genial, loving guy – too nice for Andrew to learn from. "The worse two words ever invented are 'good job'", says Fletcher. Andrew nods in agreement, bows back down to his paradiddles.
Low Down' Director Brings Joe Albany's Jazz to Sundance
Elle Fanning and John Hawkes in 'Low Down'
Sundance
Director Jeff Preiss's first feature film, "Low Down," premiered at theSundance Film Festivalin the U.S. Dramatic Competition category this week. The film explores the life of jazz pianist Joe Albany (played by John Hawkes), the virtuoso musician who struggled with heroin addiction, through the eyes of his young daughter Amy (Elle Fanning). "Low Down" is based on a memoir by Amy Albany, who co-wrote the film with Topper Lilien.
"Low Down" uses historical recordings of Joe Albany's music, but Hawkes also learned to re-enact his performance. "When John is at the piano, what his fingers are doing on the keyboard match Joe," Preiss said. "His technique as an actor is unique and he was able to focus that mindpower and pull it off."
Preiss, who is based in New York, talked with Speakeasy about Hawkes, adapting Amy Albany's book, and his hopes for "Low Down" at Sundance.
This is your first feature film. What is your background?
I came out of the art world actually and made and continue to make films that get shown in gallery contexts and through that, I became a director of photography. Through my work as a director of photography, I began also directing music videos and television commercials. In 1995, became a partner in Epoch Films, a New York-based commercial production company.